---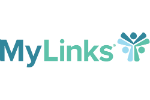 MyLinks is a free consumer-facing application to allow patients to easily gather, manage, and share their medical information at any time from one accessible and secure location. MyLinks uses the Allscripts FHIR APIs for TouchWorks, Professional, Sunrise, and Paragon EHRs to meet government interoperability regulations. MyLinks is cloud-based and mobile-responsive to allow patients to use any internet enabled device. MyLinks responds to a user's device to provide a beautiful interface to meet their needs. It also provides an easy way for caregivers to manage and coordinate their loved one's care among many healthcare providers. You can create an account and log into MyLinks from MyLinks.com.
Features include:
Ability to download records from tens of thousands of clinics
Link charts to easily manage family records
Ability to give 24-hour view only access for remote healthcare/telemedicine
Connect health devices
Store documents and images
Connect with researchers
Share data with family, caregivers, providers, or researchers
Keep a journal to identify trends in health over time
Store and share advance directives, emergency contact, insurance information
Click here to create a user account | Click here to sign up for your organization
We know COVID-19 has created a very stressful time for everyone right now. We want to help in any way we can. We would like to share a few things we are doing and hope they can be a benefit to you:
The Patient Self-Assessment Tool helps patients understand next steps if they are experiencing any symptoms. This tool is based on CDC guidelines and is free to use. Feel free to share it with your patients.
MyLinks.com allows patients to gather, aggregate, and share their medical records. This is a very helpful tool for telehealth visits.
The MyLinks Symptom Tracker helps patients who are monitoring their COVID-19 symptoms from home. They can track, graph, and share their symptoms easily. The symptom tracker is found on the dashboard after logging in at MyLinks.com.
If you would like to add any information to your PatientLink forms concerning COVID-19, please reach out to PatientLink.
Documentation:
Important Information Provider.pdf
True Interoperability MUST Include the Patient.pdf
MyLinks - Experience the Difference.pdf
Allscripts Store Admin May 11, 2020
"Deeply appreciate the time and commitment you [MyLinks] have invested to ensure that our hospitals have successful MU Attestation. You are a wonderful to partner with." -MyLinks user
Allscripts Store Admin May 11, 2020
"Thank you for your CONSISTENT help. You have been invaluable through this process. We appreciate the level of professionalism, knowledge, and customer service provided by you." -MyLinks user
Allscripts Store Admin May 11, 2020
"The MyLinks marketing information is amazing. We appreciate the direct information for the patients." -MyLinks user